A secret history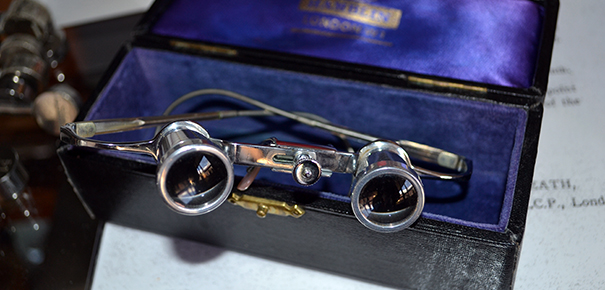 Seventy years ago the RUH underwent one of the biggest changes of its history – the launch of the NHS on July 5th 1948. The anniversary this summer provides the perfect excuse to look back at bygone times. Nestled away on the second floor of the B block the hospital has its very own mini 'museum'. It's been carefully curated by Anaesthetist Bob Marjot, and tells the story of over 100 years of the RUH.
Bob said: "The solid brass surgical instrument cabinet came originally from the old ENT Day Case Theatre - and I'm very grateful to the theatre orderlies that managed to rescue and transport it up to the Anaesthetic department for me, as it weighs an absolute ton. Presumably back in the day, Sister delegated some poor soul to polish it."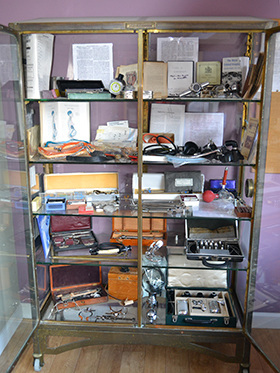 The cabinet contains artefacts spanning decades of medical practice. Some are still familiar to those with the right background – such as the vintage surgical magnifying glasses, and the neatly packaged Gabriel's syringe for haemorrhoids. But others are immediately obviously from a different age in medicine. For example, the packaging of ligature silk – warranted not to kink or curl – wouldn't look out of place in a modern-day hipster barber's product range.
But it's not just the equipment in the hospital which has changed under the past seven decades of the NHS.
At that time our current Combe Park site was the home of several separate hospitals – the Manor Hospital which had been used during the Second World War as a military hospital, the Bath & Wessex Orthopaedic Hospital, the Forbes Fraser Hospital and the Royal United Hospital, which had moved to the site from Beau Street in 1932. A photo from the time shows the site surrounded by rolling hills – a very different scene compared to the numerous buildings we work across today.
Seventy years ago the NHS was established on the basic principle of providing a comprehensive service funded by taxation, available to all and free at the time of need. Another artefact from the history cabinet shows an alternative – our 75th annual report from 1900 details the chief sources of income as £1,580 from subscriptions, £332 from donations, £453 from collections in places of worship, and £812 from collections in workmen's boxes.
Special mentions were also given to Bath Cycling Club which donated £23 and ladies of the Royal United Hospital Working Association for 'their magnificent gift of linen and blankets'. The figures paint a very different picture to today - £6,500 per year was needed to meet the hospital's working expenses, treating a total of 1,398 inpatients and 8,608 outpatients.
If you have any photos or information that shed light on our rich history, please get in touch with the Communications team on ruh-tr.communicationteam@nhs.net