Home First project an NHS70 winner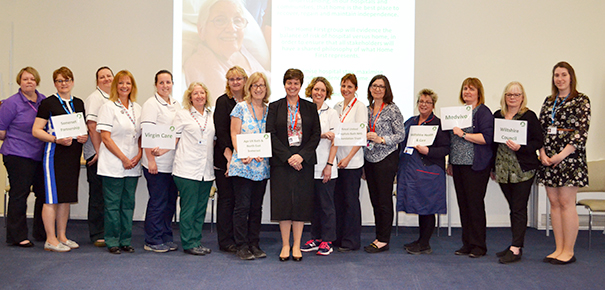 Congratulations to our community-wide Home First project, named as a regional winner in the NHS70 Parliamentary Awards.
The Home First scheme was launched by the Royal United Hospitals Bath NHS Foundation Trust in 2017. It aims to reduce the length of stay for patients who are clinically well enough to leave hospital, but who might need extra support to return to their usual place of residence.
It has been chosen from hundreds of applicants to represent the South of England in the Parliamentary Awards competition to mark the NHS's 70th birthday. As regional champion in the Excellence in Urgent and Emergency Care category, Home First will now vie with other regional winners for a national award to be presented at a ceremony in the Palace of Westminster in July.
Kerrie Hopson, RUH Home First clinical lead, said: "We are thrilled and honoured to be recognised for our work and nominated for this NHS national award. Home First is a real team effort, a system-wide project requiring health, social care and charity colleagues to work together to improve patient discharge. It's rewarding to know we're all working with the shared goal of getting more patients home, on their feet and regaining their independence."
Home First is a partnership of organisations that includes the RUH Bath NHS Foundation Trust, Wiltshire Council, Wiltshire Health & Care, Medvivo, Virgin Care, Age UK Bath, Somerset Partnership NHS Foundation Trust and Somerset County Council.
The NHS70 Parliamentary Awards, sponsored by IBM and Teva, recognise the massive contribution made by the individuals who work in and alongside the NHS.
Launched in February, it asked the region's MPs to find and nominate those individuals or teams they thought have made the biggest improvements to health services in their constituencies across ten categories. Home First (Bath) was nominated by Bath MP Wera Hobhouse.
All of the champions will now be invited to the national awards ceremony, which will be held on July 4th, the day before the NHS's 70th birthday.