RUH Redevelopment Plan
New Multi-faith Centre
Work begins
Early building work has begun on the space that'll soon house our new Multi-faith Centre. Contractors are on site and a large crane has been in place to carry out the first task of removing and replacing a large metal fire escape.
About the project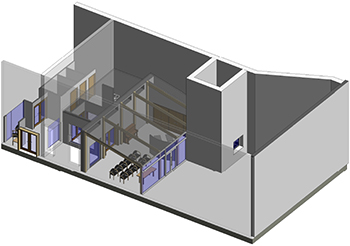 The Multi-faith Centre is at the crossroads of zones C and D on the ground floor, near the Princess Anne Wing.
It will be built in a currently open area and will include a landscaped courtyard garden.
It is all part of our programme of estates redevelopment to transform our site and ensure we are 'Fit for the Future'.
That includes major new builds, such as our recently completed Forbes Fraser Pharmacy, the forthcoming new RNHRD and Therapies Centre and, later, our eagerly-anticipated Dyson Cancer Centre.
The redevelopment programme is unlocking other opportunities to further improve what we can offer to our patients, visitors and staff, and the new Multi-faith Centre is a great example of that.
Departmental moves mean the current Chaplaincy in C26 can now relocate to a new home. It has been sensitively designed to offer a special place to sit and think or pray. It will be accessible and open 24 hours a day, and will include ablution and prayer spaces as well as a quiet and private space for confidential and sensitive conversations.
The design
It has been designed in conjunction with our Chaplaincy team to create an environment where they can offer pastoral and spiritual care to people of all faiths or none, respecting each person's integrity, beliefs and needs. The chaplaincy team will still visit the wards to offer support, comfort and, when appropriate, prayer to patients, their families and staff.
Books of remembrance for both adults and babies will remain within the centre, set aside in a designated area, along with a book for people to write their own prayers and thoughts.
Get involved
A number of Open Days to show the Multi-faith Centre designs are being planned. We'll announce the dates, times and details and keep you updated as the development takes shape.
The Chaplaincy Team can be contacted on 01225 824039.
Find out more
Follow our Twitter account to keep up to date with all the latest Estates redevelopment news.