RUH Redevelopment Plan
Building a new pharmacy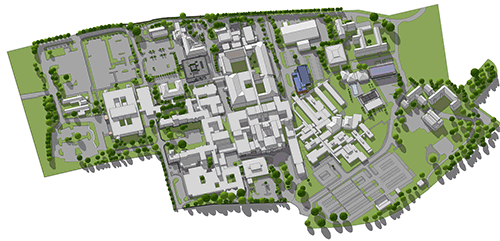 In October 2015, we started work on the construction of our new pharmacy facility. This marked another milestone in the Trust's Fit for the Future programme, as we work to transform our estate and further improve the services we provide.
It's a very exciting time for the Trust, as the new pharmacy is now in its final construction stages and staff are looking forward to moving in to a modern state-of-the-art building.
New location, improved facilities, future focused
We've worked closely with staff and pharmacy users during the design process, to make sure our new pharmacy best meets the needs of patients and staff.
The building has been designed to ensure the latest high standards for the safe preparation and storage of medicines; it will be closer to key clinical areas such as the new Cancer Centre, intensive care for adults and children and a number of key surgical and medical wards to ensure we can provide a better, more efficient service to our patients.
We are working with Kier Construction to build the pharmacy, they are also responsible for building our new Pathology Lab and Mortuary.
Efficient and integrated
Our new, state-of-the-art facility will help us provide a better, more efficient service for patients, with systems and processes that are as integrated as possible. The pharmacy will provide medicines for all inpatients on-site and a range of community hospitals.
It is supported by an out-patient dispensary in the main entrance of the hospital. Highly specialised medicines will be prepared daily in the new pharmacy including chemotherapy and a range of radiopharmaceuticals used to help diagnose many conditions.
It will also include a new aseptic unit, where highly specialised cancer and other medicines are prepared in sterile conditions, replacing the temporary facility located at the entrance to the RUH.
The new pharmacy will have the latest robotic technology; a three armed robot which can work 24/7 and be operated remotely out-of-hours. In addition, our storage system includes a Kardex carousel, which will allow more efficient storage and retrieval of bulkier items. We are the third hospital in England to benefit from their storage system.
The next steps
The new pharmacy is scheduled for completion in Winter 2016. Whilst we wait our new building to be completed, our current pharmacy facilities remain fully operational. There is no disruption to the services we provide and patients continue to have access to medicines and pharmaceutical advice.
Rachael Whiteley, Pharmacy Operations Manager says: : "Future proofing the design of a new two-storey facility, to include a new five room aseptic suite, dispensary with automated dispensing is very exciting and may offer possibilities for income generation in the future. The facilities will also allow us to have radio pharmacy back on-site. Medicines will be more quickly available, staff will have a better working environment and patients will benefit directly.
"Once the pharmacy is open, work will start on demolishing the old pharmacy building to create space to build our new RNHRD and Therapies Centre, which is another exciting development in the RUH Fit for the Future programme."
Find out more
| | |
| --- | --- |
| Follow our Twitter account to keep up to date with all the latest Estates redevelopment news. | |