Strategic Planning
Strategic Plan 2018-2020
We've finalised our Strategic Plan - 'Improving Together', where we set out our ambition for the next three years, and how we can make this happen. You can read the full document here:
Improving Together
RUH Strategic Plan 2018/19 - 2020/21
We've agreed the vision and goals that are at the heart of our strategy, what we want to stand for as an organisation and how we will achieve this: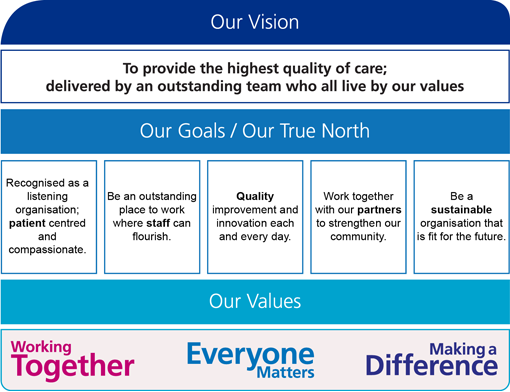 To create our strategic plan we've worked together with patients, staff, partners, commissioners and representatives of the communities we serve. Thank you to everyone who has been involved, we're really excited about what the future holds as we work towards delivering our strategy.
We've created a short video to explain our True North in a bit more detail.
Operational Plan 2018-19
Each year we write a Operational Plan for the Trust, where we set out how we will work to address key issues and drive our strategic aims forward in year. You can read a summary of this plan and how it is created here:
As part of the Operational Plan we have agreed three priorities where we want to make significant improvement during 2018-19, to support delivery of our vision. These priorities sit alongside our on-going focus on improving quality and delivering value for money in a challenging financial climate.