Relocating Services
Over the past four years we've been working towards bringing staff and services from the Royal National Hospital for Rheumatic Diseases and the Royal United Hospital together on one site. We've worked closely with staff, patients and others to identify and provide the best new home for services moving from the RUH or the Mineral Water Hospital site in Bath.
In autumn 2019 we began the phased move of staff and services to the new purpose built RNHRD and Brownsword Therapies Centre, Bernard Ireland House or other locations on our 52 acre Combe Park estate in Bath. Find out more below and tell us about your experience.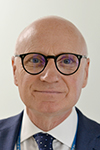 "I have watched the new RNHRD and Brownsword Therapies Centre take shape over the last year with a sense of pride. A new building, designed in conjunction with patients and which will meet the clinical, physical and emotional needs of those who'll be using or working in the Centre.
"We know that being in a dedicated building is important to help maintain the right environment for staff and patients. We know that seeing the same faces each time you visit, in a welcoming environment, brings real benefits."
James Scott, Chief Executive
RNHRD Services

Where will services at the Min be moving to?

RUH Services

Which services at the RUH have moved?

Timings

Our timetable for the phased relocation of these services.

Heritage, Art & Design

The interior design of our new
building.

Your questions answered

Frequently asked questions about the relocation programme.

Factsheets & Latest News

News, documents and further information.
Tell us what you think
We have worked hard to ensure services can be smoothly and safely transferred with the minimum disruption to patients and staff, but we're keen to hear about your experience.
Please tell us if there is anything we could improve. This will help us respond quickly to potential issues or look at long-term improvements. You can complete our very brief survey here– it's just 6 quick questions and your response can remain anonymous if you choose.