Coronavirus (COVID-19)
Please do not come to the hospital if you or someone you live with has coronavirus symptoms. Please follow the self-isolation guidelines.
If you cannot attend an appointment, contact us using the
contact form
or the number on your appointment letter.
Keeping you safe during COVID-19
The RUH has introduced measures to keep you safe, whether you are visiting the hospital for an outpatient appointment, planned treatment or because of an emergency. To tell you more, we have produced these two films:
Attending outpatient appointments
Many outpatient appointments have been delayed because of the COVID-19 pandemic. Please see the Waiting Times page for more information.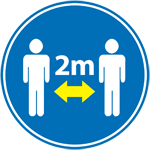 Your appointment - what you need to know
You may be asked to attend a virtual clinic, but if are attending an appointment in person, please be assured that we are doing everything we can to keep you safe. Social distancing measures are in place, and all staff that you meet will be wearing face masks. You will also be asked to wear a face covering at all times.
Find out more about appointments
Information for visitors
We have measures in place to allow us to accommodate visiting in a safe and managable way, which include limits on when and how many people can visit during the day. Find out more here:
Visting arrangements during COVID-19