Getting Involved
Friends of the RUH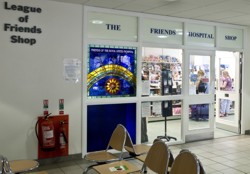 The Friends of the RUH provide amenities and comforts for patients and relatives which could not otherwise be provided by the NHS. This includes having volunteers across the hospital, fundraising and a coffee Shop and shop that are open 7 days a week.
When people think of the Hospital Friends, they perhaps don't realise that there are 20 different volunteer teams across the hospital doing a range of tasks. These tasks range from knitting at home for the Newborn Intensive Care Unit to a weekly commitment in our hospital shop, Coffee Shop or ward volunteering.
Did you know that the volunteers even attend to several Gardens around the hospital? There is also a volunteer who goes around the wards giving out emergency toiletry packs to patients who have been rushed in without the bare essentials. Not to mention the team of Guides meeting a greeting people as they walk into the hospital.
These teams seem to grow each year as more needs are met within the hospital. Quite apart from the satisfaction of helping others and feeling needed, by having so many opportunities it means that there is all sorts of work to suit every ones taste. So if you enjoy working with people, like the idea of working in a shop or prefer to be out doors gardening, there should be an opportunity that suits your interests.
For more detailed information and to find out how to volunteer visit the Friends of RUH website:
www.friendsoftheruh.org.uk/ External Link