COVID-19 (coronavirus)
Face coverings and social distancing
All outpatients and visitors at the RUH are asked to wear a face covering
at all times
We're following social distancing at all our sites to help keep you and us safe. When you visit, please keep a 2m distance between you and others wherever possible.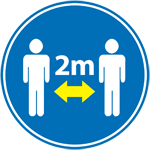 As you move around our sites please:
Keep to the left
Walk in single file
Stand aside to let others pass at a safe distance
Follow guidance provided in waiting rooms, stairways, communal areas and lifts
Thank you for your co-operation.
Advice for patients and visitors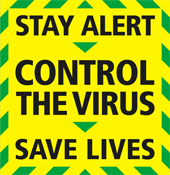 Please do not come to the hospital if you have coronavirus symptoms.
Follow the self-isolation guidelines if you have, or live with someone who has, a high temperature or new continuous cough or a loss or change in your sense of taste or smell. This advice applies to both patients and visitors.
If this means you are unable to attend a planned appointment, please contact us using the number on your appointment letter to reschedule or the contact form.
You do not need to contact 111 to tell them you're staying at home.
If you are not unwell please attend your appointment as usual, but please consider whether it is absolutely necessary for you to bring friends or family members with you. We're closely following the latest Government guidance to ensure the hospital remains a safe place for our patients. If we do have to cancel your appointment for any reason, we will let you know.
Virtual clinics
Some of our outpatient clinics may move to a virtual service, meaning your appointment will take place over the phone or on an online video chat service rather than face-to-face. If your appointment is suitable for a virtual clinic, you will be contacted well in advance to arrange this.