Elective Swabbing
Getting a COVID-19 test and isolating before your operation or procedure
As a consequence of the COVID-19 pandemic we all have to take additional measures to help keep each other safe. To protect you, other patients and staff, you must have a COVID-19 (Coronavirus) test a maximum of 3 days before coming to hospital and you and all members of your household will be required to self-isolate for 3 days prior to your procedure.
If you do not have this test and complete self-isolation, your procedure cannot take place.
If you are unclear on when your procedure date is, please contact the relevant booking department.
You may receive contact for your swab in one of two ways:
Home Swabbing
You will receive a text message saying that the hospital has requested a swab for you to complete at home and information from Royal Mail about the delivery of your swab. A member of the swabbing team will contact you throughout the process to check you are okay.
On-Site Swabbing
If you are having your Covid-19 test on-site, we will ring you once we have received your information from the booking team. We only book a maximum of one week in advance so don't worry if you haven't heard from us immediately after you have been given your operation/procedure date.
We will contact you by phone and inform you of the day we need you to come for your swab, you should be offered a choice of time but the day must comply and be within the required 72 hours prior to your operation/procedure.
This is a drive-through service; if you are not driving yourself please could you sit behind the driver so that the nurse doing your swab is not standing in the road.
How can I request a home swab?
As long as you have a mobile phone number and your procedure date is earlier than 7 days away, you can request that a home swab kit is sent to you when you speak to the member of staff booking your procedure. They will then advise the swabbing team to order you a home kit.
Elective Care Instruction Manual
Elective Care Instruction Leaflet
Note: You are not able to request a COVID swab yourself, as the team need to pass your clinical details to our department, however if you have an issue with your home kit or you need to change your appointment you can ring us on 01225 826898.
Note: Patients that are taking their test on a Sunday should book a courier by telephoning 0800 0511 811 to collect their kit.
How do I get to the On-Site Swabbing drive through?
Enter the hospital via Gate 2 (see the RUH hospital site map) and follow the road round in front of the Princess Anne Wing; you will see a white tent, if you park on the right hand side of the road next to the tent the nurse will come out and do your swab.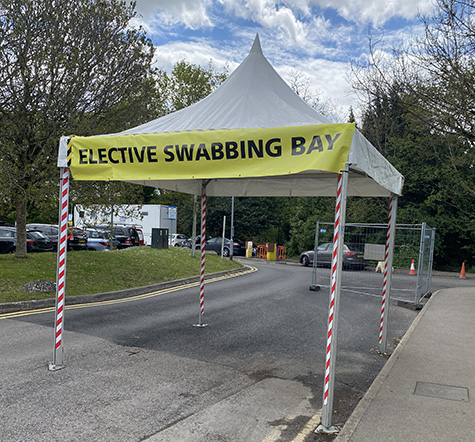 If you are travelling via public transport/walking you will still need to get to the white tent described above. In this situation, please make sure that practise good hand hygiene, wear a mask and keep 2 meters apart whilst traveling to and moving around the hospital.
Any problems on the day of your swab, if you get lost or are running late please ring the swabbing nurse on 0782 452 8555.