Work Experience/Shadowing
What we offer
The Royal United Hospitals Bath is committed to offering work experience to students at local schools and colleges across our catchment area. 

What type of work experience do you offer?  We try to offer as wide a range of work experience as possible. You might be an aspiring Doctor, Nurse or Health Care Assistant, or you may be interested in our non-clinical departments such as Administration, Finance, Facilities, IT or HR.  The key is a genuine interest  in developing a career in the NHS in the future.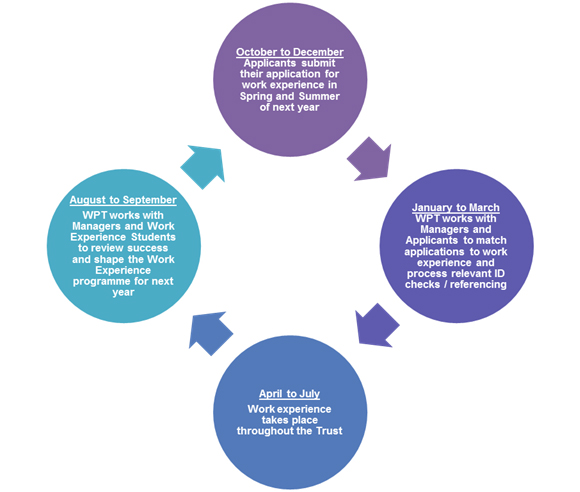 When should I apply? 
You can submit an application between October and December each year, for work experience placements in the Spring and Summer of the following year. 
The Widening Participation Team (WPT), based at the RUH Education Centre, works with managers to try to match applications with suitable work experience placements. Remember that work experience placements are limited.  Complete your application in line with the deadlines and take time and attention over it to give yourself the best chance.   

Are there any restrictions?
Work experience tends to be 5 days maximum in length (either consecutive or 1 day each week over 5 weeks) – this allows us to offer the experience to as many people as possible. 
You can only undertake work experience if a sponsor / supervisor in the relevant department agrees to fully supervise your time at the RUH.
You need to be in year 10 (14-15 years old) as a minimum to do work experience at the RUH.  Some clinical areas of the hospital have a higher age restriction.  Most clinical placements tend to require you to be in year 11 (15-16 years old) as a minimum. 
Each supervisor can set an appropriate age limit for their area, according to the type of care / treatment being given.  
Unfortunately the Trust is unable to offer work experience in the following clinical areas: Theatres, A&E / Emergency Department / Any Paediatric area
How do I apply? 
Complete an application form and return it to us by the end of December. We need your signature, and that of your parent or guardian too if you are under 18. 

You can then either scan and email it back to us* or post the original to:

The Widening Participation Team,
E7 The Education Centre,
Royal United Hospitals Bath NHS Foundation Trust,
Combe Park,
Bath BA1 3NG.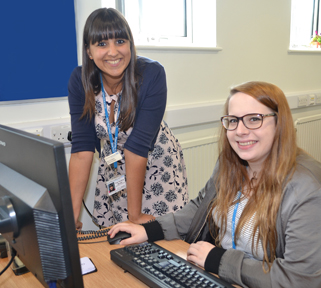 What happens next? 
You will receive an email confirming receipt of your application within 5 working days. 
During January, we will process all applications.  By the end of January, you will hear from us as to whether your application has been successful.  If you are successful in gaining a work experience placement, during February and March, we will request references and check your ID.  You will be sent a placement agreement to sign once these checks are complete.  Work experience placements typically take place in the late spring/summer of each year. 
Need more guidance ?
See our Advice and Support page and Work Experience Policy.