Getting Involved
Bath Hospital Radio

Bath Hospital Radio is judged amongst the best Hospital Radio stations in the UK. We provide a range of programmes 24 hours a day including news, information and our listeners favourite music.
If you know someone who is a patient in hospital in Bath, you can send us a request by email: studio@bathhospitalradio.org.uk.
We are a charity and run entirely by volunteers. If you have a bit of spare time and live locally, you might like to think about helping us. Just click on the Volunteer section to apply.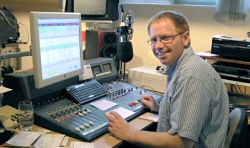 If you would like to make a donation on-line or volunteer, you can do so via the support page of the Bath Hospital Radio web site.
The Bath Hospital Broadcasts Society is a registered charity - No. 258344
For more detailed information about Bath Hospital Radio please visit:
http://www.bathhospitalradio.org.uk External Link