Shops & Facilities
Our Facilities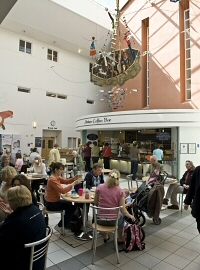 For information about places to go, whether you require a quiet moment with the chaplain; a cup of coffee or a bite to eat; or to buy a much needed item , click on the links.
A number of charities provide artwork in the corridors, a radio station and various fundraising activities.
More information about their valuable contributions can be found on:
Wheelchair hire
Wheelchairs are available at the main entrances to the RUH and require a one pound coin (returnable).
Disabled toilets/baby changing
The hospital has toilets in all the public areas. Toilets designed for the disabled carry the disabled sign but they can also be used by the able-bodied and can be used by both sexes. There are baby changing rooms in a number of locations. Ask at the main reception for directions to the nearest one.
General Amenities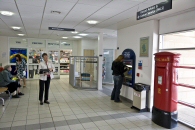 There is a pharmacy, postbox and cash point located just inside the main entrance of the RUH.
Pay Phones are located in the following areas:-
Main Entrance - Atrium
A&E - Main Waiting Area
These payphones are operated by Spectrum Interactive
Wards with the Hospedia system at the bedside also have a payphone - these are operated by Hospedia