The Urgent Care Centre (UCC) is for patients who have an urgent need to see a GP or nurse but whose illness or injury is not life-threatening and does not require a visit to the Emergency Department.
If you believe an illness or injury to be life-threatening, call 999.
Accessing the Urgent Care Centre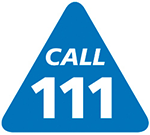 Appointments are obtained via 111 or patients can attend the Emergency Department, be seen by a UCC Streaming Nurse and given a UCC appointment if appropriate. The UCC is located adjacent to the Emergency Department and shares the same entrance.
To find out if a visit to the UCC is appropriate or to access the Out of Hours GP service, please call 111.
You will be given advice over the phone and, where required, will be booked in to attend the UCC, receive a home visit or a telephone consultation with a GP.
Services at the Urgent Care Centre at the RUH are provided by Bath and North East Somerset Doctors Urgent Care (BDUC), part of the Vocare Group.

For more information about BDUC and their services click here.