Media Release
Date: 11 October 2021
Couple's £10,500 gift to RUH marks Baby Loss Awareness Week
A Wiltshire couple who tragically lost their twin baby girls have raised more than £10,500 to help other grieving parents at the Royal United Hospitals Bath NHS Foundation Trust.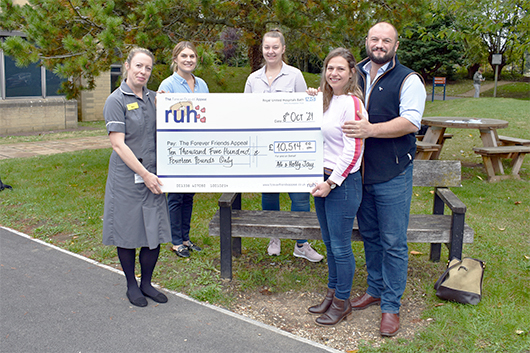 Ali and Holly Jay, from Grittleton, presented their cheque to midwives who cared for their family, marking the start of national Baby Loss Awareness Week activities (October 9-15) at the RUH.
The donation to the hospital's charity The Forever Friends Appeal and the baby loss charity Aching Arms will go towards creating an outdoor courtyard area next to the maternity unit's Forget Me Not bereavement suite.
The couple completed a 24-hour, 70-mile sponsored walk around their neighbourhood, supported by friends, family and members of their local community.
Ali said: "We can't say thank you enough to everyone who helped us to raise this money, and thank you to the amazing RUH staff who've done so much for us. We really wanted to give back something to you and to do something positive to help other people who'll experience the loss of a child."
Bereavement Midwife Bex Walsh said: "We're really grateful to Ali and Holly for this incredibly generous donation. It'll make a real and lasting difference. It's good too that this helps to raise awareness of baby loss so that families do not suffer in silence. Talking about baby loss will help mums, dads, grandparents, aunts and uncles feel able to share their grief and honour their baby's memory.
"Our Forget Me Not bereavement suite provides a space away from the busy maternity ward where grieving families who have experienced the death of a baby can have the privacy they need at a particularly difficult time. Having a dedicated outdoor area will further improve this service we provide here."
Read more about Baby Loss Awareness Week
Ali and Holly's fundraising link
ENDS