Media Release
Date: 10 December 2021
New recruits help to bolster the RUH workforce
A new team of doctors from overseas has begun work at the Royal United Hospitals Bath NHS Foundation Trust as the hospital prepares for a busy winter.
The nine new Medical Support Workers (MSWs), from countries including Nepal, Turkey and Myanmar, will work in departments across the hospital, carrying out a range of essential routine clinical tasks.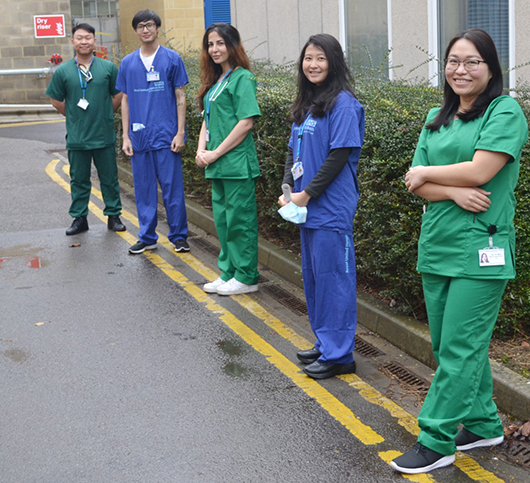 All of the Medical Support Workers (MSWs) are medically trained and qualified in other countries but need experience of working in the NHS before they can qualify to work as doctors in the UK.
Each of the MSWs will be closely supervised and will be able to carry out essential clinical tasks, including history taking, cannula insertion and taking blood samples.
All the MSWs arriving at the RUH follow an induction programme and are also being given support to settle into the local area and help with tasks like setting up bank accounts and finding accommodation.
Dr Sarah Wexler, Consultant Haematologist and Divisional Director for Family and Specialist Services, said: "Improving staffing levels at the RUH is one of the hospital's key priorities, to support our existing staff and ensure patients are getting the best possible care at all times.
"The Medical Support Workers role is open to overseas healthcare professionals who benefit from experience of the NHS before they practise as doctors in the UK. "They will play a really important role at the hospital, carrying out routine but vital tasks that free up time for other staff to spend with patients.
"This is a new role for the RUH and one I'm delighted we've been able to introduce. The Medical Support workers will be fully supported during their time at the RUH to further develop their skills and progress their careers, hopefully here at the Trust.
"The RUH has an excellent reputation for attracting highly skilled staff from countries all over the world and we are proud to be such a diverse organisation. "The Medical Support Workers are a very welcome addition to the RUH family and will make a real difference to our staff and patients as we face a challenging winter."
ENDS