Media Release
Date: 25 January 2022
Bath Large Vaccination Centre celebrates one year anniversary
Staff and volunteers at the Large Vaccination Centre at Bath Racecourse today marked one year since the Centre welcomed its first member of the public.
Since opening in January 2021, the vaccination centre has delivered over 230,000 vaccinations, including 51,000 booster jabs.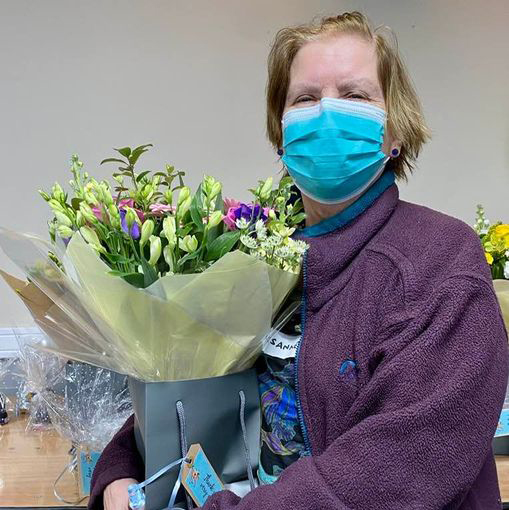 Cara Charles-Barks, Chief Executive at the RUH said: "The Bath Racecourse centre plays a vital role in the vaccination programme for our community, vaccinating everyone from 12 year olds through to those aged 100 or over. "Setting up such a large facility was challenging, but we're really proud of the Centre and the hundreds of staff and volunteers who have worked together to make the last year such as success.
"A huge thank you to everyone who has been involved. It's been a real team effort, including over 1000 volunteers from local charity 3SG, 400 volunteers from St John Ambulance and colleagues from Avon Fire and Rescue, Avon and Wiltshire Police Force, as well as Navy, Army and RAF support and of course staff from the RUH and other healthcare partners in the region, the Racecourse team and our neighbours Lansdown Golf Course. A huge thank you to all those involved.
"We're also really grateful to all those who have come forward for their vaccination, it remains the best way to keep yourself and others safe and if you haven't got round to it yet, the friendly team at the racecourse are still there to provide your first, second or booster jab or just answer any questions you may have.
Current and past staff and volunteers gathered across the day to mark the significant occasion. The anniversary also provided an opportunity to celebrate some special achievements including congratulating:
Karen Holman, who was named as the top vaccinator, having given an incredible 7400 vaccinations at the Bath Racecourse. This week Karen also celebrated 40 years of working in the NHS. Lesley Woodhouse was recognised as another champion vaccinator, delivering over 6000 vaccinations.
Volunteers Susanne Haslegrove, Sean Harrington and Colin Blackman from 3SG, an independent network supporting the charity, social enterprise, faith and voluntary sector in Bath and North East Somerset. Susanne has worked over 100 shifts at the Centre, and Sean and Colin have worked over 90.
Volunteer Martin Brennan from St John Ambulance who has worked over 100 shifts, and Alison Hooper and Peter Swales from St John Ambulance who have worked 74 and 56 shifts.
Open 8am to 8pm and vaccinating on average 700 people a day, the centre recently stepped up to the challenge of boosting the community ahead of Christmas - vaccinating as many as 2300 people a day in December.
The Bath Racecourse remains open for all those who are eligible for a vaccination, offering walk in appointments or you can book in advance using the national booking system.
ENDS