Media Release
Date: 21 February 2022
Student nurse returns to work in RUH neonatal intensive care unit where she was cared for 19 years earlier
There has been a welcome return to the Neonatal Intensive Care Unit at the Royal United Hospitals Bath NHS Foundation Trust for a student nurse who was cared for on the unit 19 years before.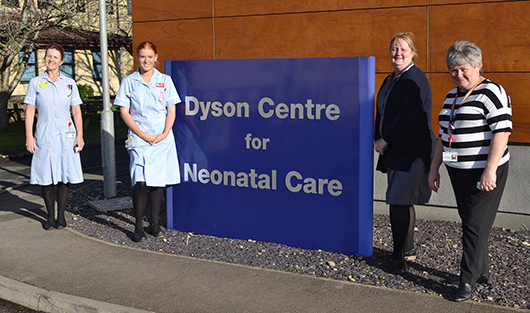 Ruby Guest and her twin brother Harvey were born 15 weeks premature in August 2002 and spent 12 weeks in the RUH's neonatal unit.
The pair were so poorly that doctors gave them just a 50% chance of survival. They had to be ventilated, were fed through tubes and needed constant support to control their temperature before both were finally well enough to go home.
Now, 19 years later, Ruby has returned to the RUH for eight weeks as part of her paediatric trainee nurse placement with the University of the West of England.
She has been working alongside and learning from staff who cared for her when she was a poorly premature baby. Ruby, who lives in Bath, said: "Being back at the RUH has been fantastic. You'd expect it to feel strange, especially working alongside people who cared for me when I was a baby, but it hasn't, it feels like I'm in the right place.
"I'm really enjoying it. I feel I'm making a real difference, not just in caring for the children but through the support I can give to their parents too.
"It's hard to see parents so worried and upset but I'm able to share my own personal experience with them and they find that so reassuring."
Ruby said that she had always wanted to become a nurse.
"It's always what I've wanted to do, ever since I was a child," she said. "It must have something to do with what I went through. I just feel I have a connection with nursing and this hospital in particular.
"My mum and dad still talk about how well we were all looked after by the staff on the ward and they'll never forget that.
"Before Covid we would all make a trip to see the staff at Christmas and bring them a few treats. We'll never forget what they did for us. They are the only reason I'm here now."
Sarah Goodwin, Quality and Education Neonatal Sister, is one of several staff in NICU who cared for Ruby and her brother.
She said: "I remember them really well, even though it was a long time ago. I'm not sure if it was because they were twins, or because they were so poorly, or because of Ruby's bright red hair!
"It's been wonderful to have her back at NICU – she's a natural and feels like part of the team.
"She's got a very mature head on such young shoulders and I've no doubt she'll go a long way."
The Dyson Centre for Neonatal Intensive Care provides care for premature and sick term newborn babies. Approximately 10% of all babies will need admission to a neonatal unit, commonly because of prematurity, infection, breathing difficulties or feeding problems.
The unit has 21 cots and a range of facilities for parents, including four double en-suite bedrooms, a breast milk expressing room, a parents' coffee room, quiet room, a play area for siblings and a garden.
ENDS