Media Release
Date: 23 February 2022
The latest rehabilitation technology helps RUH patients recover from serious knee injuries
The latest in rehabilitation technology is helping patients with knee and lower limb injuries prepare for and recover from surgery at the Royal United Hospitals Bath NHS Foundation Trust.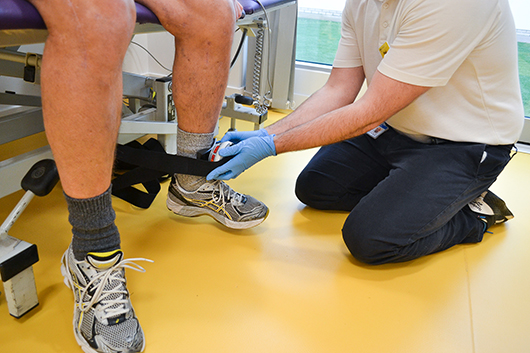 A new bit of equipment, called a Handheld Dynamometer (HHD), is being used to accurately measure the muscle strength of patients who have ruptured their anterior cruciate ligament (ACL), one of the ligaments in the knee joint.
ACL injuries are one of the most common types of knee injury, especially amongst those who play sport. If your ACL is torn, your knee may become unstable and lose its full range of movement.
By measuring the strength of a patient's quadriceps – the muscles which cover the front and sides of the thigh – physiotherapists can make sure a patient is in the best possible shape for surgery.
It has been shown that the stronger the quadriceps, the more successful anterior cruciate ligament surgery is likely to be.
To get a reading, the portable kit is strapped to a patient's shin. When the patient moves their leg, the resistance provides physiotherapists with all the measurements they need.
The HHD is also helping patients recover from surgery, ensuring that their rehabilitation programme is tailored for them and their recovery.
The HHD cost £1,200 and was funded through the hospital's Innovation Panel, which provides support and funding for projects to improve patient care and experience.
The panel gives staff an opportunity to bid for support to take forward new and innovative ideas and projects.
Specialist MSK Physiotherapist Paul Minty, who applied to the panel for funding to buy the HHD, said: "The Handheld Dynamometer has had such a positive impact, for our patients and for me and my colleagues too.
"Each test takes just a couple of minutes and the measurements that the HHD gives helps us to ensure our patients are stronger and in the very best condition for surgery, which will improve their outcomes.
"It's also helping them recover from surgery more quickly and effectively by allowing us to accurately measure their muscle strength and adjust their rehabilitation programme accordingly.
"Patients like it because using the HHD they can see how their strength is improving and our surgeons like it too because they can see that a patient is in the best possible shape for surgery.
"The RUH is one of just a handful of hospitals with this bit of kit, which shows our commitment to quality improvement and innovation."
The HHD has proved so successful that the physiotherapy team has started using it to help with rehabilitation from other joint injuries too.
ENDS