Media Release
Date: 1 April 2022
Children's Emergency Department thanks local community for their donation of 'bravery prizes'
The Children's Emergency Department at the Royal United Hospitals (RUH) Bath NHS Foundation Trust has given thanks to the local community for donating over 400 parcels containing gifts for children who attend the department.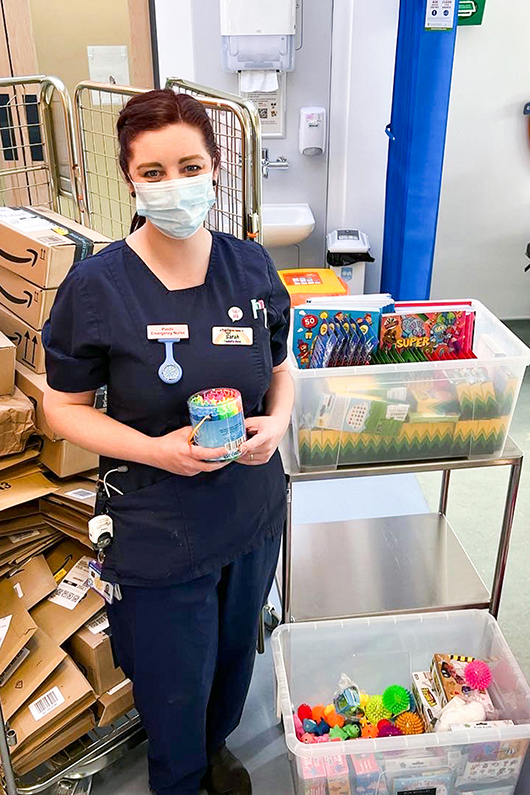 The 'bravery prizes' wish list was set up online by Paediatric Emergency Sister Sarah Potter last week so that children could be given small gifts to reward their bravery following treatment in the Emergency Department.
Sarah said: "We care for lots of children who have had a frightening accident or injury and have to have a procedure in the department and I wanted to make the experience of coming to the hospital better for them. We already had a supply of stickers, but I wanted to be able to do something more so I created the online wish list.
"I was encouraged to share the list on Facebook and it completely blew up, with over 600 shares and hundreds of messages to date. We've since received over 400 parcels containing crayons and felt tips, colouring books, sticker sheets, fidget toys and puzzles.
"We store the gifts in a treasure chest in the Children's Emergency Department and children are invited to choose a prize as a reward before they go home or get admitted as an inpatient. We hope that this makes the Emergency Department a less scary place, and the experience a positive one in the eyes of the children and young people who visit us.
"I am completely overwhelmed with the generosity of our local community and so grateful for every person who bought a gift, it really will make such a difference to our patients."
Jenni Lee, Sarah's manager and Emergency Department Matron, said: "I am so proud of Sarah and all our Emergency Department colleagues who continuously go above and beyond for our patients. "I'd also like to extend my sincerest thanks to our community for supporting this cause. We're really touched by the response and excited to see the impact this is going to have on our young patients."
ENDS