Media Release
Date: 27 March 2023
RUH calls for more breastfeeding peer support volunteers
A dedicated team of breastfeeding peer supporters at the Royal United Hospitals (RUH) Bath NHS Foundation Trust is calling for more volunteers to join them.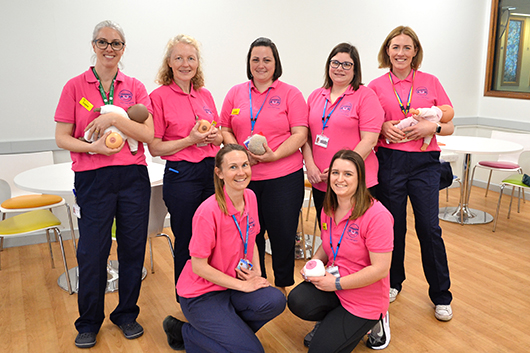 The breastfeeding peer support service was set up to supplement the support provided by the infant feeding team at the RUH to mums and birthing people who chose to breastfeed their babies. The peer support service is led by volunteers who provide support in-person on the antenatal ward and neonatal intensive care unit (NICU) at the RUH and in community locations across Bath and west Wiltshire.
The service also supports people virtually via weekly online drop-in sessions and has a thriving Facebook community with over 1,400 members.
Ashleigh, a mum of three from Radstock who has been volunteering with the service for the past four years, said: "Most of the volunteers have been inspired to help out because we've had our own struggles with feeding. That was certainly the case for me. I really wanted to breastfeed my first baby but I was unable to and this left me really disheartened.
"When I had my second child, I met one of the breastfeeding support volunteers whilst staying on Mary ward at the RUH and the advice and reassurance she provided was phenomenal. I went on to successfully breastfeed my second and third babies.
"After receiving this support, I wanted to help other mums on their feeding journeys so I volunteered with the team. It's such a rewarding role. I love seeing people become mums and being able to support them in those first few hours and days after birth whilst they're at their most vulnerable is a real privilege."
Every volunteer undergoes a 35-hour accredited training course and mentoring by experienced volunteers and RUH maternity staff.
Ashleigh added: "As a volunteer, you're well supported with training which you can complete online, in your own time, and you have the opportunity to shadow experienced volunteers until you feel confident to support people on your own. After this, you can help out whenever you have time, there's no formal commitment which makes it really easy to work around your lifestyle."
Abi, mum of two from Trowbridge, was introduced to the service after giving birth at the RUH. Abi said: "This is a brilliant resource for new mums. The guidance and reassurance I was given by the volunteers made such a lasting impact on me, I'm still feeding my 16-month old baby now which is something I never thought possible at the start.
"The Facebook group has also been a really great source of on-going support for me, no matter how big or small your question, there's always someone there ready to help you."
To find out more about becoming a breastfeeding peer support volunteer contact Sally Tedstone, RUH Infant Feeding Specialist, at sally.tedstone@nhs.net. We are committed to providing an inclusive service and welcome volunteers from a range of backgrounds, including those who speak English as a second language.
To join the virtual support group, search for 'Bath and West Wiltshire Breastfeeding Peer Support' on Facebook or contact Heather Kale, Breastfeeding Peer Support Volunteer, at heather.kale@nhs.net.
ENDS