Media Release
Date: 24 April 2023
RUH activities help patients on the road to recovery
Seated dancing, crafts and balloon volleyball are among the activities on offer to patients at the Royal United Hospitals Bath NHS Foundation Trust to help get them out of bed, keep moving and on the road to recovery.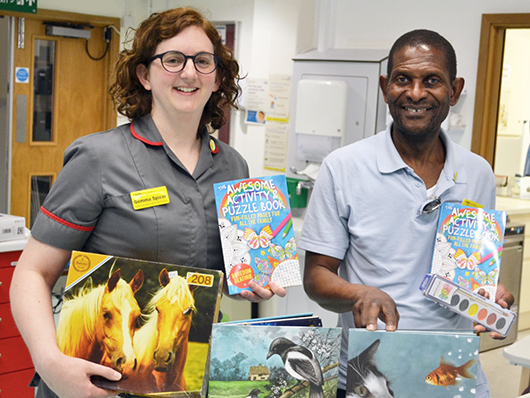 Encouraging inpatients to be more mobile prevents them getting weaker, reduces the risk of falls and can reduce the time it takes for them to recover from illness or an operation.
It's all part of a national initiative called the Reconditioning Games, which aims to encourage healthcare settings to promote mental and physical wellbeing to improve patient outcomes.
Organisations taking part in the event can then receive bronze, silver or gold awards based on the activities they organise and the number of people who get involved.
Gemma Spicer, Quality Improvement Lead for Falls Prevention at the RUH, said: "We know that getting patients moving and keeping them mentally stimulated really can make a difference to their recovery time.
"We always work hard to get our patients up and about, but the Reconditioning Games project is great fun to be part of and a number of our wards have already received gold awards for the great work they have been doing.
"We've seen first-hand the difference this has made to patients being discharged. Some have been able to leave us and get home sooner than expected, without needing to spend time in a local community hospital."
The wards also have activity trolleys packed with games, puzzles, crafts and activity books which patients are encouraged to work on together.
Tammy Zalek, Midford ward Ward Manager, said: "We encourage our patients to sit outside of their bed at least once a day, starting with lunchtime. This has many positive outcomes, such as regular movement and activity, encourages better nutritional intake and promotes social interaction between patients.
"The activities we run include singing, dancing, balloon volleyball and bingo. Our patients have really enjoyed it and say how it helps to break up the normal day on a hospital ward."
ENDS