Media Release
Date: 6 June 2023
RUH staff get on their bikes to see patients
Staff from the Children's Therapies team at the Royal United Hospitals Bath NHS Foundation Trust are now using pedal power to visit their patients in the community thanks to a new e-cargo bike.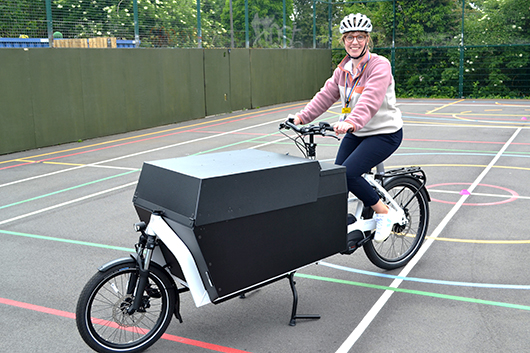 The bike is on loan to the team for a year and will mean they can travel on two wheels with zero pollution to see their patients, avoiding traffic queues and reducing air and noise pollution.
An e-cargo bike is simply a cargo bike with the addition of an electric motor. Batteries from ecargo bikes are detachable and come with a charger which can be plugged into the mains electricity network via a typical three-pin socket.
The bikes are already being used across the country by delivery companies and for things like street cleaning, park maintenance and waste collection.
The initiative is a result of the work of the RUH's Sustainability Team, which won funding from Greener NHS and also resources and training from the West of England Mayoral Combined Authority to support a project with the aim of making staff travel more sustainable.
The team has partnered with the Future Transport Zone team at the West of England Mayoral Combined Authority to trial the use of one e-cargo bike for a year to see if it will provide the expected benefits to staff.
Annelore Hill-Verhaegen, a Specialist Occupational Therapist in the Children's Therapies Team, said: "As a team we're really keen to do what we can to be more sustainable, so the new bike is going to be so helpful.
"It means that when we go out to our community visits in Bath and the local area we can travel in a much more sustainable way and hopefully get to our appointments more quickly too as we won't be stuck sitting in traffic."
Maya Loaiza, from the RUH's Sustainability team said: "The Children's Therapies team wanted to try out a more sustainable mode of transport to attend their community-based patient visits, so they were the team chosen to trial the e-cargo bike for the year.
"As well as the environmental benefits of cycling to appointment, we're hopeful that staff will see the mental and physical benefits that physical exercise brings.
"It is also reducing costs for the NHS as it means a lot less fuel will need to be purchased for the team to travel to their community appointments.
"This is a one-year trial, but if it proves a success we will look at buying a bike which can continue to be used by the Children's Therapies team as well exploring other opportunities for e-cargo bike use at the RUH."
Metro Mayor Dan Norris said: "I'm delighted that the RUH is trying out green, clean e-cargo bikes for their community visits. Whether it's groceries or medical supplies, e-cargo bikes offer a great transport option for West of England firms large and small, plus they can help cut congestion and clean up our toxic air - a win-win!
"Under my leadership, the West of England Combined Authority is doing all it can to ensure polluting vehicles are a thing of the past - so, so important in helping us reach our superambitious net-zero targets locally."
You can watch a short video about the e-cargo bike, including interviews with Annelore and Maya, here:
ENDS