Media Release
Date: 5 July 2023
Additional support for visually impaired hospital patients
Visually impaired inpatients at the Royal United Hospitals Bath NHS Foundation Trust will now benefit from additional support and equipment during their stay.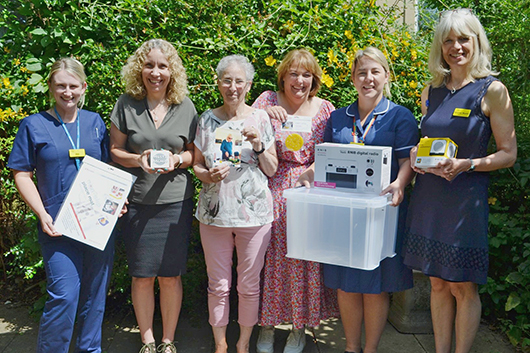 The new initiative is being led by the family of Bob Brown, who was blind and who spent the last few weeks of his life in hospital in the south of England.
Bob, who was blind from the age of 67, spoke of how isolated and alone he felt during his stay in hospital, so his family decided they wanted to do something to help other people in a similar position – and the Bob's Boxes project was born.
Thanks to the fundraising efforts of Bob's family, the RUH, daughter Becky's local hospital, is getting three new boxes stocked full of useful equipment to make hospital stays more comfortable for people with visual impairment.
The first boxes will contain things like a talking clock, which tells the time and date at the push of a button, a digital radio, a non-slip cupholder and a device for recording voice messages.
The content of the boxes may change if patient feedback suggests other equipment would be useful.
The project reflects the RUH's commitment to the people we care for, supporting people as and when they need it most - delivering high quality care, listening and acting on what matters most to them.
Bob's daughter Becky Wych said: "We hope that these boxes will help visually impaired patients to have more independence during their stay in hospital. The items in the boxes are all things that my dad used in his day to day life.
"The boxes are just one element of the work that we have been doing. Raising awareness and training of staff to enhance the whole patient experience is an important component for us too.
"We all know that small things can make a big difference and we hope that visually impaired inpatients at the RUH will really benefit from these boxes."
Bob's daughter, Lorraine Allington, said: "Dad would be very proud to see what we're trying to achieve with this project. His final will said 'remember the blind' and Bob's Boxes is doing exactly that."
Bob's wife, Diana Brown, said: "Bob was diagnosed with Retinitis Pigmentosa in his early 40s and his eyesight slowly deteriorated, leaving him completely blind when he was 67.
"Despite this, we still enjoyed many holidays together and Bob loved sport, especially football and horse racing, which he listened to on his radio every day.
"I think he'd be so pleased to see what we're doing and the help this will give people in a similar situation to him."
Sharon Manhi, RUH Lead for Patient & Carer Experience, said: "We are always looking at what more we can do to support patients with visual impairment/blindness in the hospital and the items in the boxes, such as pen-readers and anti-slip cup holders, are simple everyday solutions.
"We will continue to work with families and patients to add to the boxes items of equipment that they might use in their own homes."
You can support the Bob Box's project on JustGiving:
www.justgiving.com/crowdfunding/bobsboxes
ENDS