Shops & Facilities
Chaplaincy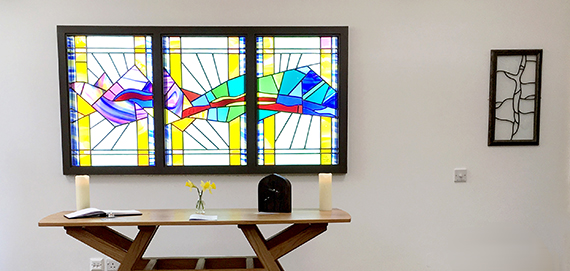 On this page:
Overview
The Chaplaincy Team provides spiritual and religious care to all Patients, their Carers and Families, as well as hospital staff. We respect and support people of all faiths or none, respecting their uniqueness, integrity and confidentiality. We are able to offer assistance to make appropriate contact for people of all faiths.
The team comprises four chaplains and a number of honorary chaplains and spiritual care volunteers. We are always available, to offer appropriate support, to visit and to listen, please ask a member of the ward staff to provide a referral form, or contact us direct 01225 824039 or email ruh-tr.chaplaincy@nhs.net
The Spiritual Care Centre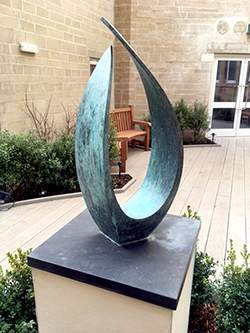 The Spiritual Care Centre, which opened in February 2018, replaced the former Chapel, was dedicated in April as a space for reflection and prayer.
The Centre offers 24-hour access for people of all faiths or none, providing room for reflection, prayer or simply to gather their thoughts.
Members of the chaplaincy team are always available as a listening ear when required. We have a quiet room for confidential and sensitive conversations.
Ablution and prayer spaces are available for Muslim staff or Patients and their Families.
You are encouraged to make use of our courtyard sculpture garden with seating for a restful and peaceful environment.
The Lead Chaplain Narinder Tegally has expressed that "It is a real privilege and exciting to be in this new space and a joy to be working in this modern, purpose-built Centre, which provides religious and spiritual care to anyone with diverse needs from all backgrounds, cultures, of all faiths and none. It's a place where we can offer support not just to patients, but to Families, Carers and staff as well."
The Spiritual Care Centre is located on the intersection of Zone C & D on the ground floor of the Princess Anne Wing Corridor.
The Spiritual Care Centre is part of the Royal United Hospitals Bath NHS Foundation Trust's Fit for the Future development plan to transform the site and further improve services for patients.
The Chaplaincy Team
The Ecumenical Chaplaincy Team comprises one full-time and four part-time Chaplains, supported by Honorary Chaplains and Volunteers.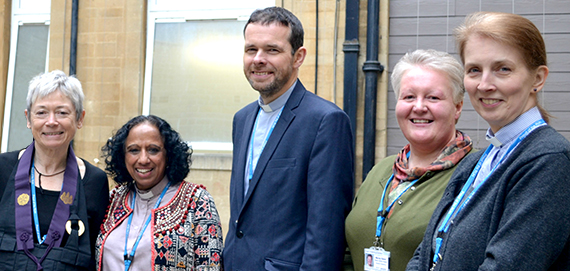 Information Resource on different Religions
The following link gives information on the different faith groups and potential needs and considerations for patients and their families:
Regular Events
Daily Prayer at 8.30am - 8.45am (not Saturdays)
Monday
12.30pm:
Making space with Mindfulness Meditation
We will take time to quiet the mind and sit mindfully. Led by Dr Jan Mojsa, our Buddhist Chaplain, this will be an opportunity to sit with others to create a space for wellbeing and contemplative stillness. Jan is an ordained Buddhist Chaplain who also works as a psychotherapist. As a visiting fellow at Bournemouth University she also has an interest in the humanisation of healthcare.
1.00 - 2.00pm:
Open Space for Exploring Life and Faith Issues
All welcome to drop in. You are welcome to bring your sandwiches and we will provide hot drinks.
Tuesday
12.15 - 1.30pm:
Drop-in for staff to meet an chat with the Chaplains or just enjoy the peace of the garden and prayer space. Bring your lunch and we will provide hot drinks.
Wednesday
1.00 - 1.30pm:
Informal Prayers
Everyone Welcome
Thursday
1.00 - 1.30pm:
Holy Communion
Everyone Welcome
Friday
12.30 - 1.00pm:
Guided Meditation
Everyone Welcome
1.15pm:
Jumu'ah (Muslim) Prayers
Sunday:
3.00pm:
Sunday Worship (Christian)
Contact Us
The Hospital internal Line extension is 4039 or if calling the RUH from the outside, or using a mobile phone, the direct telephone number is 01225 824039.
Alternatively you can email the chaplaincy at:

In an emergency, at any time
Please contact us through the Hospital switchboard operator if calling the RUH from the outside, or using a mobile phone, the direct telephone number is 01225 428331 or by any internal phone to dial 0 and requesting the On-Call Chaplain.
Contact cards
You can also use our contact cards to request a ward visit, or give us feedback about the Spiritual Care Centre.
The Chaplaincy Team
Reverend Narinder Tegally

Reverend Narinder Tegally, Lead Chaplain (Church of England)

Narinder joined the Trust as our new Lead Chaplain in May 2017. Previously she was a Parish Priest in Buckinghamshire, but is no stranger to hospital chaplaincy – she was Chaplain at the Royal Free Hospital and Senior Chaplain for Guy's and St Thomas' Hospital and the Évelina Children's Hospital in London.

Before she was ordained in 2002, Narinder was a Registered Nurse working in both Palliative Care and Mental Health for young people. She is also a qualified Psychodynamic Counsellor.

Reverend Philip Turner

Reverend Philip Turner, Deputy Team Chaplain
(Methodist - Free Church)

Philip became a Methodist Minister in 1999 and has served various churches in Suffolk, Hertfordshire and Yorkshire but was always drawn to offering care to those in hospital. In April 2017 he became a chaplaincy volunteer and the following year joined the staff. In his spare time he bakes bread, runs the Bath Skyline parkrun and is researching holiness. His wife is a chaplain to university students. They have two school-aged children and live in Bath.

Mandy Baker

Mandy Baker (Roman Catholic)

Mandy is a lay Roman Catholic chaplain who joined the staff part-time as chaplain in 2012 with special responsibility for the care of Roman Catholics in the hospital. Mandy liaises with local RC clergy and a team of Lay Eucharistic Ministers to ensure pastoral and spiritual care is offered to Roman Catholic Patients.

Apart from her duties in the hospital, she works as a lay chaplain in a Catholic secondary school.

Reverend Christine Dickson

Reverend Christine Dickson, Assistant Chaplain
(Church of England)

Christine joined the chaplaincy team as a part time Assistant Chaplain earlier this year (2018), having spent some time previously working here as a bank Chaplain. She also currently supports her home parish Churches and the Frome deanery. In the past, Christine has worked as a hospice Chaplain, a Vicar and a Hospital Pharmacist.

Dr Jan Mojsa

Dr Jan Mojsa, Assistant Chaplain (Buddhist)

Dr Jan Mojsa is an ordained Buddhist Chaplain and psychotherapist. She completed her chaplaincy training with the internationally renowned programme at Upaya Zen Centre in Santa Fe with Roshi Joan Halifax. She works from an interfaith perspective equally supporting those with no faith.