Trust Values
Our values and behaviours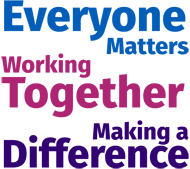 Our values were created with almost 1000 staff, patients and carers who used the feedback from 1000 hours of listening to staff, patients, carers and families about their experience of working and being cared for at the RUH.
They convey the things we heard make the most difference to the people we care for, the people we work with and the people in our community, and the ways people said we can keep improving.
They represent our aspiration for the type of hospital we want to be and how we will deliver our vision: The RUH, where you matter.
They set out what we expect of ourselves, and importantly, what our patients and anyone who comes into contact with the RUH can expect of us.
Our values are: Everyone Matters, Working Together, Making a Difference.

Everyone Matters
We will be kind and caring
This means:
Putting yourself in others' shoes
Taking an interest in others' wellbeing
Creating calm and welcoming environments
Showing empathy, civility and compassion
We will treat everyone as an individual
This means:
Seeing the person
Recognising differences
Understanding their needs
Respecting their views, choices and dignity

Working Together
We will support each other
This means:
Being aware of others
Collaborating to provide the best possible service
Building relationships within and across teams
We will actively listen
This means:
Making time to listen
Hearing people and responding
Asking people if they need help
Following things through

Making a Difference
We will share ideas and speak up
This means:
Creating a positive culture where there is no such thing as a bad idea
Seeking different perspectives
Being fearless in challenging the status quo
We will be responsive and efficient
This means:
Taking the time to do things effectively
Being respectful of other people's time and resources
Minimising waste