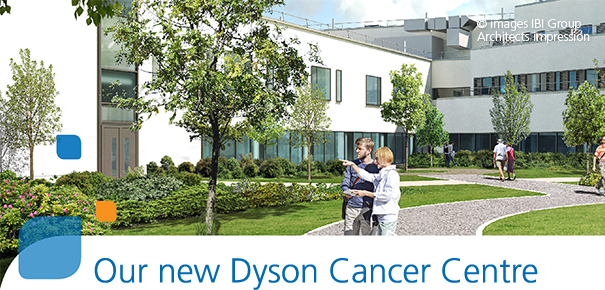 Join our virtual event
Tuesday 13 June, 3.30pm Hear the latest updates on the Dyson Cancer Centre. May 2023 is available here:

We're building a new Cancer Centre at the RUH. The Dyson Cancer Centre will help transform the care we provide for patients, families and carers and provide a nurturing and therapeutic environment, reducing stress and anxiety and promoting health and welbeing.

Scheduled to open for patients in late 2023, the new Centre will be located next to the main entrance of the RUH and will bring the majority of the RUH's cancer services, including research teams, under one roof.

We're making great progress. Watch our stakeholder event for the latest on project progress, art and interior design plan.

Find out more:
A look inside the Dyson Cancer Centre
May 2023
As we head into spring, we are still on track for the Dyson Cancer Centre to open at the RUH at the end of the year.
Dan Barnett, RUH Project Manager and architect has shared a quick look behind the scenes at how a couple of these spaces are shaping up - the Atrium, which will provide a welcoming space for all using or working in the centre, and the new chemotherapy suite which where patients can receive their cancer treatment in comfortable and relaxed surroundings.
About the Dyson Cancer Centre
Watch our film