The Dyson Cancer Centre
Follow our progress
We will shortly be launching a live web stream so you can keep an eye on our progress. In the meantime, you can keep informed by following @RUHBath on Twitter and Instagram and by checking the RUH's Facebook page.
Name the Crane Competition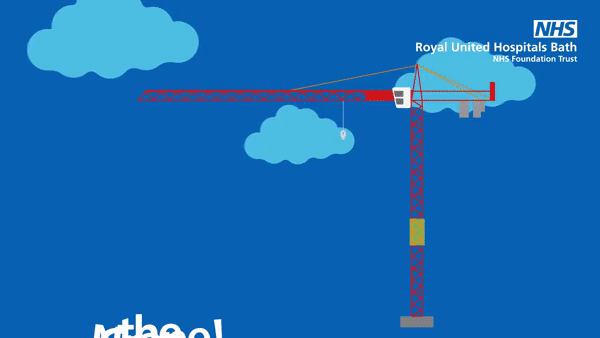 Thank you to all those who entered our competition to name the crane working on the Dyson Cancer Centre.
We had so many great suggestions that we couldn't decide so we've narrowed it down to three and we're asking for your help!

Vote here for your favourite here https://www.surveymonkey.co.uk/r/cranevote
Please cast your vote by Sunday 9th January 2022.
What's happening on site?

December 2021
The frame of the building is beginning to emerge from behind the hoardings. The first floor slabs are being poured for what will become the staff office area. A temporary deck has been built for the first floor areas above the main atrium – this will be part of the Macmillan Wellbeing Hub and the inpatient ward.
November 2021
Work continues to progress on schedule. Drainage works were completed and work began on the reinforced concrete frame, starting with laying the concrete floor slabs.
Although the building is barely out of the ground, the project team are also busy on starting to develop the interior design for the building. This will include working alongside staff and patients, and will included details around the look and feel of wards and public spaces, as well as any art works and design features.
October 2021
Groundworks continue and work is progressing well and is on schedule. Work has begun on pouring the concrete ground slabs. At the end of the month, our new tower crane arrived on site as we prepare for the next phase of construction. The crane will remain on site until summer 2023.
September 2021
Groundworks continue, including underpinning Radiotherapy, continuing the foundations for chemotherapy and progressing with the stair foundations and lift pit.
A base for the tower crane is under construction - the crane is due on site in October 2021.
August 2021
Groundworks phase is underway – that's all the work beneath the surface, such as foundations, trenches, laying pipes and cables. It's all been meticulously planned, and everything has to happen in a precise order.