The Dyson Cancer Centre
What's inside the Dyson Cancer Centre?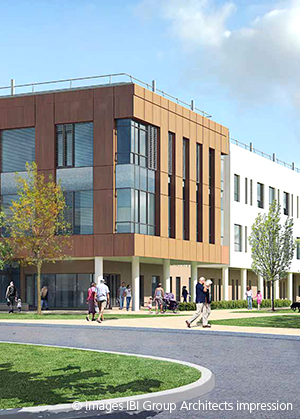 Our new Dyson Cancer Centre will include:
Welcoming reception and waiting area
Inpatient ward
Outpatients
Dedicated therapy rooms
Lymphoedema room
Radiotherapy
Pharmacy
Chemotherapy and day care
Family accommodation
Clinical trials and research teams
Macmillan Wellbeing Hub
Staff Hub
Nuclear Medicine and Medical Physics
As well as quiet rooms and outdoor spaces and courtyards for patients and staff.
Art and design
The art and interior design strategy for the Centre is based on biophilia, the innate human instinct to connect with nature. Biophilic design uses natural materials and patterns to maintain a connection to nature within built environments. It has been found to support cognitive function, physical health, and psychological wellbeing.
The theme 'Land, Water and Sky' will run throughout the building to provide a calming and uplifting environment for patients and staff. The design of the building also takes into account differently accessibility needs and provide a dementia and disability friendly environment with comprehensive signage throughout the Centre to help people find their way.
Hamish Mackie – 'Swifts'
In October British wildlife sculptor Hamish Mackie shared a glimpse into his workshop, where he is busy working on a sculpture commission for the new Dyson Cancer Centre at the RUH. Entitled 'Swifts' and representing a pair of swifts in flight, the sculpture will form part of the inpatient courtyard in the new centre. This video, filmed in Hamish's studio in Oxfordshire, shows the sculptor making the armature - a framework around which a sculpture is built.
The next stage will be to sculpt the original in plasticine and capture the aerodynamic and fast moving nature of these beautiful birds which have been chosen as a symbol of hope.
The final larger than life sculpture will be cast into bronze and mounted on a limestone plinth where it will form a focal point for the open air first floor courtyard in the centre.
Amy Shelton – Botánica #2
Amy was commissioned to make one of her celebrated series of Florilegium artworks for the Dyson Cancer Centre The result is a beautiful, bespoke, large-scale botanical light box installation.
Amy created this artwork from a biodiverse palette of local flowers and plants gathered from the celebrated garden at Hauser and Wirth in Bruton, designed by the internationally celebrated garden designer Piet Oudolf. This illuminated artwork will be a focal point for patients in the radiotherapy department, capturing the beauty, structure and form of plants gathered across the seasons from this famous local garden.