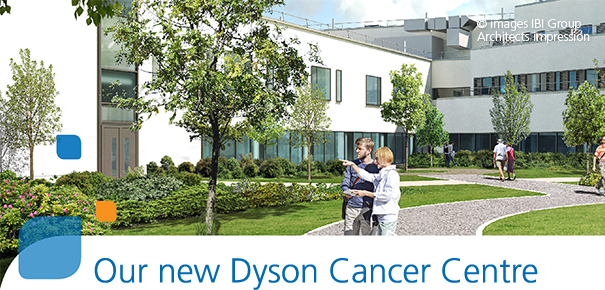 News and updates
For a summary of all of our media releases and social media posts, please click here: January 2023 is available here:

We're building a new Cancer Centre at the RUH. The Dyson Cancer Centre will help transform the care we provide for patients, families and carers and provide a nurturing and therapeutic environment, reducing stress and anxiety and promoting health and welbeing.

Scheduled to open for patients in late 2023, the new Centre will be located next to the main entrance of the RUH and will bring the majority of the RUH's cancer services, including research teams, under one roof.

We're making great progress. Watch our stakeholder event for the latest on project progress, art and interior design plan.

Find out more:
Construction, art and interior design update
June 2022
July 2022 marks twelve months since we broke ground on the Dyson Cancer Centre the three-story building has emerged from behind the hoardings, the exterior work is almost complete and work is well underway to partition the internal spaces which will bring together the majority of the RUH's cancer services under one roof. Take a look behind the hoardings to see how this fantastic new facility is taking shape.
About the Dyson Cancer Centre
Watch our film