Join our Aseptics Team - we're recruiting at all levels
We are looking for an enthusiastic and self-motivated people to join our growing team of Assistants, Operators and Technicians.

There has never been a more exciting and innovative time to work in our Aseptics team, here at the Royal United Hospitals Bath. They are a dynamic and fast-paced team who are dedicated to preparing highly-specialised medicines such as chemotherapy and radiopharmaceuticals that are used to help treat patients with cancer.

It's a rewarding department to work in as you will be at the forefront of a service which supports our patients when they are at their most vulnerable - you will be helping save lives by making incredibly important treatments. We can offer you experience of meeting the patients we treat and work closely with our oncology professionals to see the impact of your work.

You will be based in our recently built pharmacy building which provides medicines for all inpatients on-site and a range of community hospitals. It is supported by an outpatient dispensary in the main entrance of the hospital. We have the latest robotic technology in our pharmacy, including a three-armed robot that can work 24/7 and be operated remotely out of hours.

It's a great facility to be based in and it is close to many staff amenities on-site, including the restaurants, cycle storage areas, outdoor swimming pool, Education Centre and Academic Library.
Have you got what it takes to join our Aseptics Team?
If you thrive on data and facts, have a good attention to detail and like to work in a methodical and logical way, we would like to hear from you.
We're looking for people who would thrive working in a fast-paced environment, are highly motivated, flexible and have a positive attitude, and have an enthusiasm to develop their skills and support an ever evolving team.
You should be able to work as part of a team but also be able to demonstrate initiative, display the Trust values and work in a professional and timely manner, with acute attention to detail.
If this sounds like you, take a look at the job opportunities we have on offer below:
Opportunities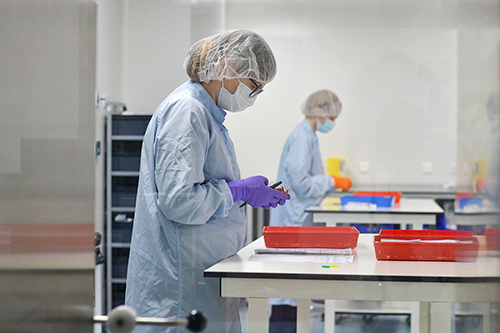 Developing your talent
Many of our colleagues have progressed within our department and are enjoying the benefits of new job opportunities and rewards. We offer extensive career pathway development, allowing our staff to undertake training and qualifications to work their way from assistant level to senior manager or lead technician roles. If you have the desire to work hard and progress, we can make it happen.
In your first few weeks of joining us, you'll take part in a Trust induction to help you familiarise yourself with the hospital and we'll introduce you to our new team, so you can get to know everyone. You'll also be paired with a member of the Aseptics team who will guide you and help you with your initial training.
The RUH strives to be a diverse and inclusive employer where we can all be ourselves and celebrate our diversity and the benefits that diversity brings to our teams and the care we provide. We particularly encourage applications from people who identify as Black, Asian or from a Minority Ethnic background.
Potential welcome packages are also able to be discussed, please reach out to the team for more information.
Your wellbeing is important to us - everyone matters at the RUH. When you join our RUH community, you'll be invited to be part of our staff networks, meet new colleagues, discuss ideas and encourage conversations that can influence change for the benefit of everyone. To find out about the range of staff benefits that we have to offer you please click here.
Our hospital site is surrounded by beautiful countryside, there's plenty of outside space for you to enjoy a restful break. We even have an outdoor heated swimming pool to help support your wellbeing. What's more we're just a short distance away from Bath's vibrant city centre which has many restaurants, independent shops, pubs and trendy bars. Find out more here.
Interested? How you can find out more about these roles
We welcome applicants to contact us before they submit their application so they can discuss any roles they are interested in further, or want to informally meet the team.
Applying for a vacancy
For information on our application process and advice on how to prepare for an interview, please click here.
Staff stories
Sarah Thompson
Deputy Aseptic Services Lead


I started my career here as a Purchasing and Distribution Assistant and have worked my way up to be the Deputy Aseptic Services Lead. I've had a really rewarding career in Pharmacy, thanks to the support and training that I have received at the RUH.

Lizzy Eades
Senior Aseptics Services Technician


I have been working at the Royal United Hospital for 6 years now. I started as a Pharmacy Assistant working in Aseptic Services in 2016. If you haven't worked in this area before, this role is a good place to start as you can learn about Aseptics and what it we do.