Work Experience & Apprenticeships
Work Experience
What we offer
Here at the Royal United Hospitals Bath NHS Foundation Trust (RUH), we are committed to offering work experience to students from schools and colleges to support young people into future NHS careers. If you are thinking of a career change towards health, we might be able to help too.
Work experience can help you decide on your next step in your career. Don't take our word for it, watch the videos below to see what Jack, a previous work experience student, and Tina, a work experience supervisor at the RUH, think about it.
To read more, click on the title for the relevant section below (click again to close it).
Applications will be made via NHS jobs, with an advert created for each role / profession.
Adverts for each role / profession will open and close at different times of the year.
Please keep an eye on this page - when each advert is ready, we will update the current vacancies section of this page and include details about the type of work experience available, the vacancy number and closing date for applications.
You can keep informed about when adverts go live by following @RUH_Careers on Twitter, liking the RUH's Facebook page or follow RUHBath on Instagram .
(*you need to be aged 13 or over to hold these social media accounts).
This central application process is now the only way in which you can access work experience at the RUH. We will receive all applications centrally. If there are more applications than places, all applications will be assessed using a shortlisting criteria. The aim is to have a clear central application process to give everyone a fair chance. Please do not approach our staff members directly and ask them to supervise your work experience.
You need to be living and/or studying in the RUH's catchment area. This includes Bath, Chippenham, Corsham, Melksham, Trowbridge, Bradford on Avon, Westbury, Frome, Keynsham, Brislington and surrounding villages. If you are not within this catchment, please contact your local hospital in the first instance to see how they can support you.
You can only do work experience if a supervisor in the relevant department is available
to fully supervise your time at the RUH and if the Widening Participation Team has processed the relevant ID checks and referencing
The Trust is currently unable to offer work experience in the following clinical areas: Theatres / A&E / Emergency Department / Any Paediatric area / Maternity
Our work experience is only available to applicants in school year 12 and above. We do not offer work experience to students in years 10 and 11. We do have other opportunities for these age groups to find out more about NHS careers. We will share these with the careers advisers at local schools in our catchment area. Please also see our Advice and Support page for further information
Our work experience policy covers short periods of shadowing / work experience. We typically offer between 1 and 5 days of work experience to each applicant, dependent on availability of work experience placements.
This application process does not support elective placements (e.g. several weeks to support ongoing university degrees). For these, you would need to contact the relevant department directly to see if they are able to accommodate you
The online application form is available on NHS jobs. There will be a separate vacancy for each area / profession. The table below lists the current live vacancies.
| | | |
| --- | --- | --- |
| Type of work experience | Vacancy number | Closing date |
| Information Technology (IT) | 427-WE2020002 | Sunday 8th March 2020 |
| Radiography | 427-WE2020003 | Sunday 22nd March 2020 |
If we receive a high volume of applications, we may close earlier than anticipated. Therefore, please encourage those interested to apply early.
We are currently processing applications submitted for nursing, radiography, Oral & Maxillofacial Surgery and Orthodontics, physiotherapy and Information Technology. For those who have applied for any of these vacancies, they should expect to hear from us within four weeks from the closing date.
Further work experience opportunities for other areas of the hospital will be available in due course. When we open applications for these areas, we will update our website and post on social media.
To view the vacancy, please visit NHS jobs and copy and paste the relevant vacancy number listed in the table above into the pink Keywords or Job Reference box and click on the 'Search' button.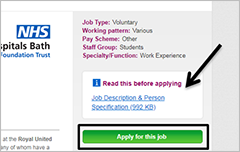 Before applying, you will need to set up an NHS jobs account.
Follow the instructions on the site for this or refer to the Sample Application form attached in the Job Description section of each advert.
Once logged in, select the vacancy and click on the green box (Apply for this job). This will take you to our online work experience application.
Read the advert and Sample Application form attached in the Job Description section to help you complete your work experience application form.
The advert will say when work experience will take place and how many places are available. Please state in your application the date(s) you are applying for.
Where demand exceeds the number of places, shortlisting will take place. More information about what we'll be looking for can be found in the Sample Application form attached in the Job Description section of the advert.
If you need any help in completing an application or need to complete the form in a different format, please email us at ruh-tr.careersengage@nhs.net or call the Widening
Participation Team on 01225 824281 or 01225 821542.
Once completed, you should receive an automated email to say that your work experience application has been submitted.
We will process applications and let you know if you have been successful after the vacancy has closed. Please allow up to four weeks to hear from us.
Flu vaccine : please note that if you attend work experience during the autumn or winter months, you will be offered the option of receiving a flu vaccine, free of charge, to be administered at the Royal United Hospital (Due to variations in flu vaccine stock, we cannot guarantee that we will be able to administer the vaccine before your work experience if you accept the offer). More information and the relevant paperwork will be made available to you before the work experience starts.
The Widening Participation Team typically needs a minimum of 4 weeks to conduct the relevant references and checks. Work experience cannot take place prior to these being completed and signed off.
Please click on our Advice and Support page for information on health careers, apprenticeships, careers events, volunteering, membership and fundraising opportunities.
We like all queries related to work experience - including telephone and / or email enquiries - to be made by students themselves, rather than by friends, parents or grandparents enquiring on their behalf. We believe that communicating with NHS staff directly is an excellent learning opportunity for students.
To contact us, please email us at ruh-tr.careersengage@nhs.net or call the Widening Participation Team on 01225 824281 or 01225 821542.
Click here to read our Careers Engagement and Work Experience Policy.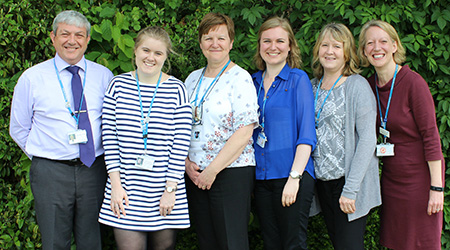 As part of RUH work experience, we collect and process personal data relating to work experience placements. We are committed to being open about how we collect and use that data and to meeting our data protection obligations in accordance with the Data Protection Act 2018 and GDPR (General Data Protection Regulation).
A privacy notice is a statement published by an organisation which explains how personal and confidential data about individuals is collected, used and shared. To find out more, please click here to access our Careers Engagement Privacy Notice.