Nursing Recruitment
Healthcare Assistants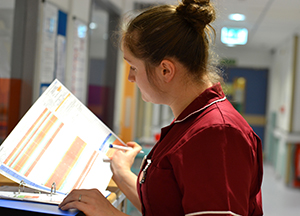 Would you like to work for a hospital that supports you and your development? Start your career at the RUH as a Healthcare Assistant.
We are looking to recruit people who are passionate about caring for others, working as part of a team and hard working.
As a healthcare assistant, we'll help you to complete any required competencies relating to your job role/band.
As a healthcare assistant you'll have several career path options for you to take from an apprenticeship to sponsorship for nurse training. You will find further information on career development in our Learning and Development Prospectus. Any HCA's who join our Trust and are new to care will be expected to complete an apprenticeship at Level 2.
How to apply
You don't need any previous experience in working in health care. If you have the following qualities listed below, then we want to hear from you:
Caring and kind
Willing to be hands on with patients
Willing to do personal care tasks (washing, toileting etc)
Able to follow instructions and procedures
Able to work in a team but also use their own initiative
Good communication, observational and organisation skills
To give you an idea of what it is like to be a Healthcare Assistant, take a look at our guide to a 'Day in the Life of a HCA'.
We will be holding regular health care assistant interviews. These will be advertised on NHS Jobs.
Your interview will be a competency based interview and will be around our Trust Values.
As part of your interview process you will be required to undertake literacy and a numeracy test. You will have one hour to complete both tests and you can use a calculator (if you do not have a calculator one can be provided for you).
For information on completing a successful application form and interview preparation please see our Hints and Tips about job applications.
If you have any questions about becoming a healthcare assistant at our Trust please contact our Recruitment team on:
01225 825831 or 07787 287422
If you would like further advice on your career development please contact the Education Centre main reception on 01225 825502 and ask to be put through to an available member of the Widening Participation Development team.
Further information
Learning & Development Prospectus
Job Applications - Hints and Tips