| | |
| --- | --- |
| Critical Care Unit: ICU and HDU | B12 |
Critical Care Follow-up Clinic
The follow-up clinic is a new service which started in January 2020. Our service aims to identify any ongoing needs or concerns that patients may have as a result of their stay on Critical Care.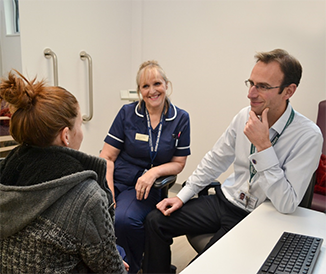 After leaving Critical Care at the Royal United Hospital, patients will be contacted by letter or phone call to see if they will benefit from the clinic.
Clinic appointments are especially helpful for patients who have experienced negative consequences linked to a Critical Care admission such as:
Reduced mobility
Loss of independence
Loss of identity
Changes in mood
Nightmares or flashbacks
If you wish to get in contact with the clinic team, please contact our administrator:
For further details on this clinic, please take a look at our leaflet:
Patient Experience Questionnaire
The Critical Care Follow-up Clinic team would like to hear about your experience of the follow up clinic. What you tell us will help us to understand whether the clinic made a meaningful difference to you, and help us to improve what we do. Your anonymous answers will be used for improvement purposes and they may be included in presentations and published in reports (including public reports) about the service.
To provide feedback about your experience please click here:
Critical Care Follow-up Clinic questionnaire