Foundation Trust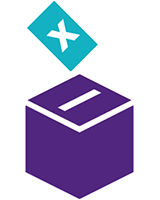 Governor Elections 2022
We are excited to inform you that on 2nd August, this year's constituency-wide election to the RUH Council of Governors will open. We have seven vacancies across the City of Bath, North East Somerset, Mendip, North Wiltshire, South Wiltshire and Rest of England & Wales constituencies.
This autumn, we'll be launching the new vision and goals for the RUH, which will shape our future. We believe that Everyone Matters - the people we are for, the people we work with, and the people in our community. This is an exciting time to join our Council of Governors as we set our ambitions, offering direction, hope and energy for everyone we work with and for, alongside the massive challenges faced by the NHS.
This is your opportunity to:
Use your experience, skills and enthusiasm to make a positive difference in your local area.
Be the voice of your community; help us to shape the future of our services and the way that they are delivered for the better.
Build your knowledge of the RUH and keep your fellow members informed.
Find out more
Contact the Membership Office on 01225 821262 or via email at RUHmembership@nhs.net to join us at one of our information sessions or to request a Governor Guide to find out more about the role. Information sessions will be held online using Microsoft Teams on:
Wednesday 17th August, 4pm to 5pm
Tuesday 23rd August, 12 noon to 1pm
The nomination period is only open for a short amount of time and the deadline for nomination forms is 5pm on 31 August.
The last date for candidate withdrawal is 5 September.
From 2 August you will be able to complete a nomination form on our election website www.cesvotes.com/ruh2022. If you would prefer to receive a nomination form via post please contact the election administrator using the contact details below:
Who can become a Governor?
You do need to be a member of the Royal United Hospitals Bath NHS Foundation Trust (RUH), but no formal qualifications are required, just enthusiasm, a willingness to ask questions, be open to ideas, and a desire to make a difference by getting involved in your local hospital.
All successful candidates will be provided with an induction as well as ongoing training, development and support to carry out the role effectively.
What does a Governor do?
The role of an RUH Governor is to help ensure the Trust delivers services which meet the needs of patients, carers, staff and local stakeholders. Governors do this by creating stronger links with the communities we serve by reflecting patient and public views and interests and by carrying out some particular duties as defined in the Trust Constitution.
Your key role as a Governor would be to ensure that the views of local people are heard and fed back to the Board of Directors. Governors do not undertake operational management of the Trust; rather they collectively hold the Non-Executive Directors to account for the performance of the Board of Directors.
If you are interested in the role but are not yet a member, you can sign up here.