| | |
| --- | --- |
| Emergency Department / A&E | A&E |
Our Staff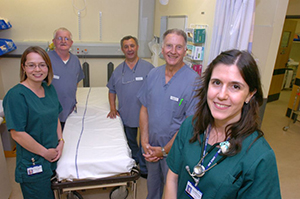 Nursing Staff
We have 65 nursing staff ranging from band 5 to band 7
On each shift there are usually between 9 & 11 registered nurses, including a shift co-ordinator and also a number of emergency nurse practitioners seeing their own patients.
Medical
We have 8 Emergency Medicine Consultants who provide senior on site supervision 8am till 10.30pm everyday and a consultant is always available for advice or to attend if necessary 24 hours a day, 7 days a week.
Further senior medical cover is provided 24hrs a day by our team of specialty registrars & associate specialists in Emergency Medicine.
We also have junior doctors in training and specialist emergency nurse practitioners.
There are never less than 3 doctors available to see patients at any point in time, and frequently many more.
Reception
Our enthusiastic team of receptionists are on hand 24hrs a day to provide a friendly welcome to the department, to book patients in on their arrival and to provide information for patients and families while they are waiting in the department
Ancillary Emergency Department Staff
We have our own Healthcare Assistants and Emergency Department assistants who help to look after patients while in the department and provide accessory care such as plaster cast application.
Also see:
Map of Hospital Location in Bath
Location of Emergency Department on RUH site