| | |
| --- | --- |
| Emergency Department / A&E | A&E |
Compliments and Complaints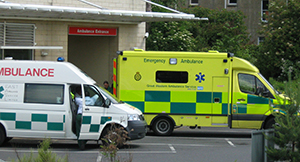 We endeavour to provide the highest standard of care for every patient attending the department. If you or your relatives have any concerns regarding your treatment, please ask the nurse or doctor looking after you. Balancing the needs of everyone in the A&E is a complex and delicate task.
Despite our best efforts, sometimes patients feel their needs may not have been fully met. If you have had an unsatisfactory experience, please let us know.
We welcome any feedback as part of our ongoing commitment to improving our service to patients, such comments are regularly acted upon and fed back to staff at our weekly team brief meeting.
Any informal response can be forwarded to the department at the contact details stated above, any patients with concerns who would like advice on making a formal complaint can find further advice/guidance using the link below.
Also see:
Patient support and complaints