Visiting information
New visiting arrangements from Monday 12 April 2021
We are pleased to be able to welcome back limited numbers of visitors to the RUH from
Monday 12 April
as coronavirus pressures ease. To reduce the risk of spreading infection some restrictions will still apply, such as the number of people allowed in to the hospital and the amount of time you can stay.
More details will be published here on Monday 12 April.
Wearing face coverings at the RUH
All outpatients and visitors at the RUH are asked to wear a face covering at all times.
Face coverings can act as a barrier to prevent the spread of coronavirus from the wearer to others. They can be purchased commercially or handmade. There is information online about
how to wear and make a face covering
.
Please bring your own face covering and wear it when you first enter the hospital or a department directly. We understand that not all patients will be able to wear a face covering, such as young children or those with breathing difficulties.
Got a question?
Please see our FAQ
.
Visiting is currently suspended
To protect our patients, visitors and staff, and in line with government advice, visiting is suspended with immediate effect and until further notice.

Find out how to send a message to your loved one.
Inpatients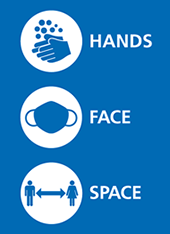 The only exceptional circumstances where one visitor -
an immediate family member or carer
- will be permitted to visit are listed below:
Parent or appropriate adult visiting your child
Patients nearing end of life
Parent or carer accompanying a vulnerable adult
You can drop off property (eg. fresh clothes, a book or mobile device) for a patient at main reception in the hospital Atrium. We'll then make sure it gets to them on the ward. Please make sure bags are clearly labelled with the patient's name and ward.
Please contact the ward in advance to discuss appropriate arrangements.
Patients nearing end of life due to COVID-19, or suspected COVID-19, may have a family member or close friend visit for an hour or more, in discussion with the ward sister.
Outpatients
If you are attending for treatment as an adult outpatient, please come into hospital by yourself. Child outpatients can be accompanied by one adult and no siblings. Please help us to be able to contact you while visiting restrictions are in place.
Keeping families and patient in touch during COVID
Maternity
Support for women during their maternity journey.
In line with recent guidance, we are pleased to inform you that from Monday 5 April 2021 all women receiving care from the RUH maternity services, and its local maternity units (Chippenham, Frome, Paulton and Trowbridge) can have one support person to accompany them to all maternity appointments, including the Outpatient Assessment Unit at the RUH.
A birth supporter may be in attendance throughout labour and up to three hours following the birth.
One support person can visit on Mary ward between 11am and 5pm.
Women requiring a longer stay on Bath Birthing Centre will also be able to have one support person between 11am and 5pm.
There is no change to ultrasound scans at this time but we will update you as soon as possible with any changes.
When visiting you will not be able to re-attend should you leave Mary ward or Bath Birthing Centre, so please bring plenty of supplies with you and please continue to wear a face covering at all times.
Control the virus, save lives
You must not visit in any circumstances if you have a high temperature or new continuous cough or a loss or change in your sense of taste or smell.
Everyone should follow the expert national guidance on social distancing and self-isolation, staying at home wherever possible, to help limit the spread of coronavirus, protect the most vulnerable people in our communities and our NHS.
We recognise this is a difficult time for all our patients, their families and carers. Your health, safety and wellbeing, that of our patients, communities and individuals and teams across the organisation remain our absolute priority.
Thank you for your continued support and understanding at this challenging time.
Social distancing at the RUH
We're following social distancing at all our sites to help keep you and us safe. When you visit, please keep a 2m distance between you and others wherever possible.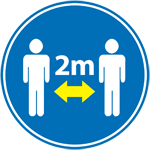 As you move around our sites please:
Keep to the left
Walk in single file
Stand aside to let others pass at a safe distance
Follow guidance provided in waiting rooms, stairways, communal areas and lifts
Thank you for your co-operation.
Send a message to your loved one
While visiting is suspended, we can help you to keep in touch by passing on a message to your loved one in hospital. This service is designed to let patients know that their friends and loved ones are well, thinking of them and sending their best wishes.
Step one: Email ruh-tr.keepingintouch@nhs.net or call 01225 825656 or 01225 826319 to tell us what your message is. Please provide the patient's name, date of birth, location or ward if known, and your details including your relationship to the patient.
Step two: Your message will be delivered to the patient using our in-house postal service, Monday to Friday.
Unfortunately we are unable to facilitate sending messages back from patients to their family or friends.