| | |
| --- | --- |
| Research & Development | D1 |
About us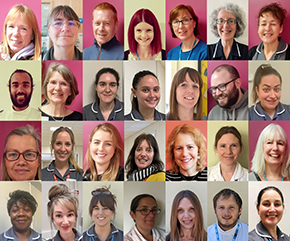 We are incredibly proud to be a research active trust with Research and Development (R&D) playing a vital part in our hospital's work.
Research is essential in providing new knowledge and learning about advice and treatments that will improve a patient's care and quality of life.
Clinicians across many different departments and specialties of the RUH are involved in a wide-range of research projects and evidence-based working.
We also carry out research in partnership with local universities in Bath and Bristol, as well as many other academic institutions, NHS Trusts and charities.
There is good evidence that patients treated in research active hospitals achieve better outcomes regardless of whether they themselves participated in research. Increasingly, patients expect to be offered the opportunity to be part of clinical research, a feature that has been emphasised by the COVID-19 pandemic. Please click here to see the RUH's involvement in COVID-19 research:
What is healthcare research?
There are different types of research which range from:
Trials of new medications, medical devices or treatments (clinical trials)
Observational studies (looking at assessments/treatment as part of routine clinical care)
Interviews/ focus group studies
Healthcare research studies help us understand how to diagnose, manage, treat, cure or prevent disease.
All research projects taking place at the hospital must have obtained approval from the R&D office at the hospital and an NHS Research Ethics Committee.
Specialties where research is taking place at the RUH:
Please note - information about the specialties shown in grey will be added soon